Buenzli 17 (2008) fotos / pictures and more...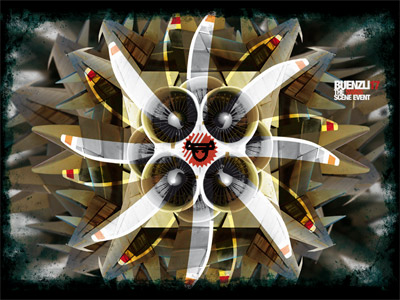 This year the Buenzli Demoparty was on the 15th, 16th and 17th August, like every year in Winterthur / Switzerland. Here are some fotos and other informations about the party. Note that I put all pictures, videos and all stuff in a row higgledy-piggledy on this page. Just scroll up and down how you want and stop where you want and where you see something interesting. Post about your likes and dislikes or about what you want in my guestbook..
Oh wait, I forgot... You don't know what a Demo or a Demoparty is? Then read point 2.1 and 4.1 of the Demo and Demoscene FAQ

But now the pictures and the stuff: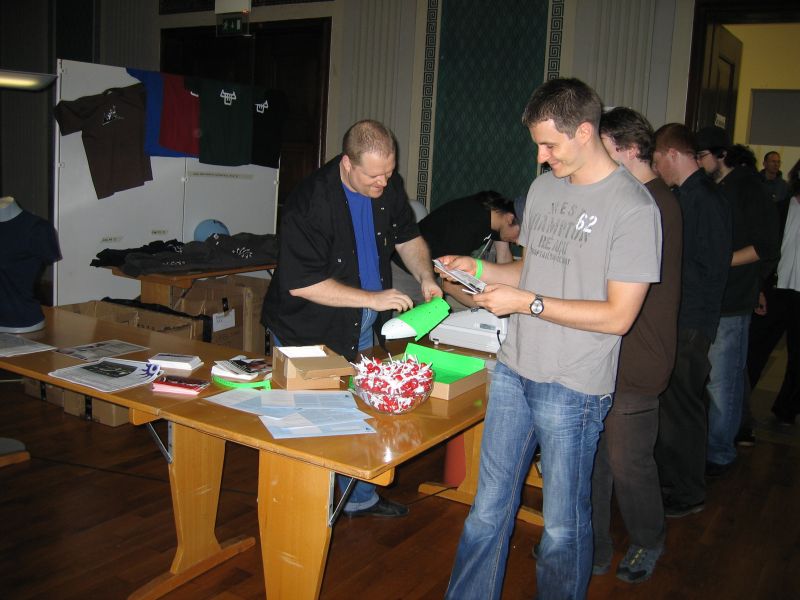 At the beginning on Friday about 17 o'clock. Robocop and CCP from Atlantis welcome the sceners.
Prime directives... 1) Pay the entrance fee... 2) Buy a T-Shirt... 3) Code a demo or something... 4) [classified]
As every year: There are very very special surprise compo topics at Buenzli... ;-)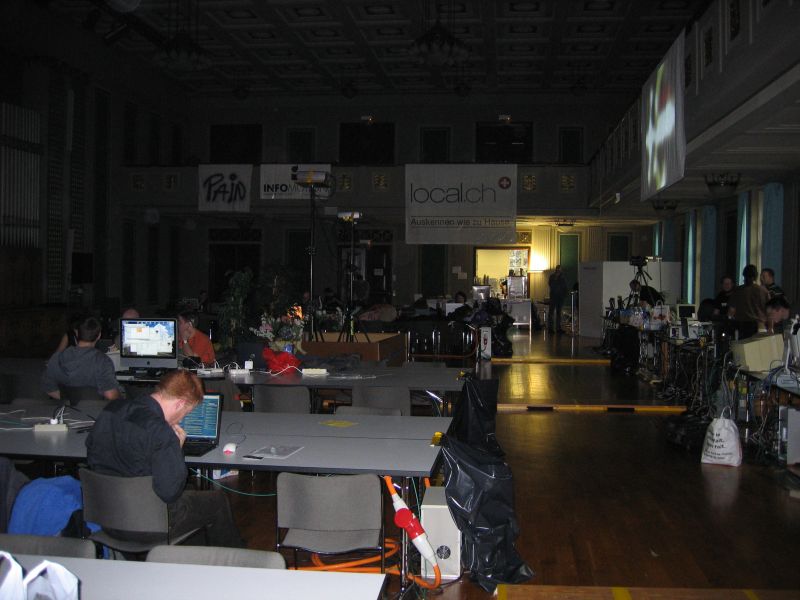 Friday afternoon: Sceners are coming and installing their machines...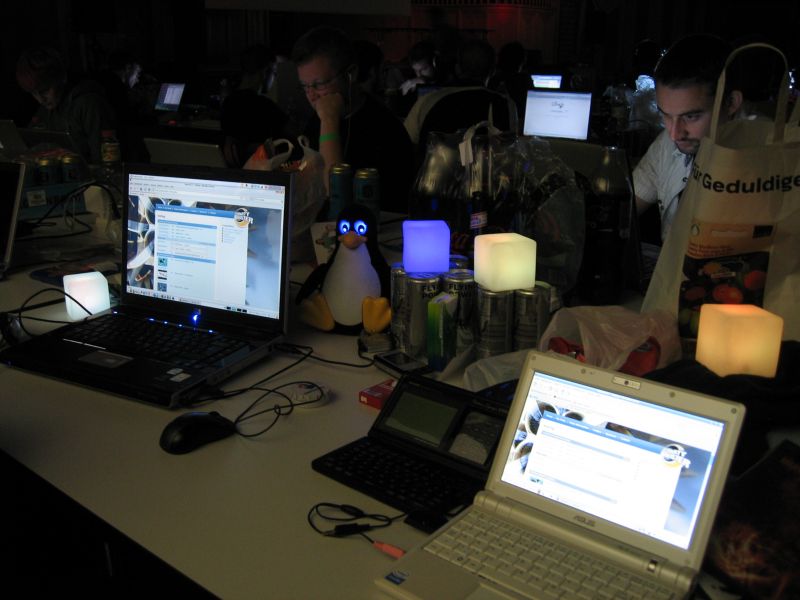 Our (Vectrex and Chainsaw) desk at the Buenzli... You also see some guys from the famous Drifters (I think that they are from the Drifters??)... On the picture are also some energy drinks, some LED cubes, a little Tux and my demoplatform, a Sharp Organizer. (More about this Organizer see below.)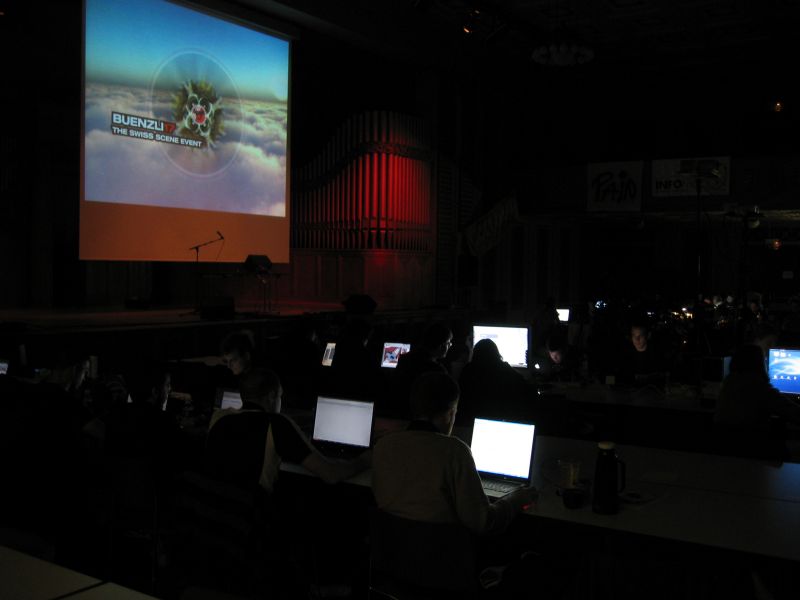 The mainscreen and some sceners...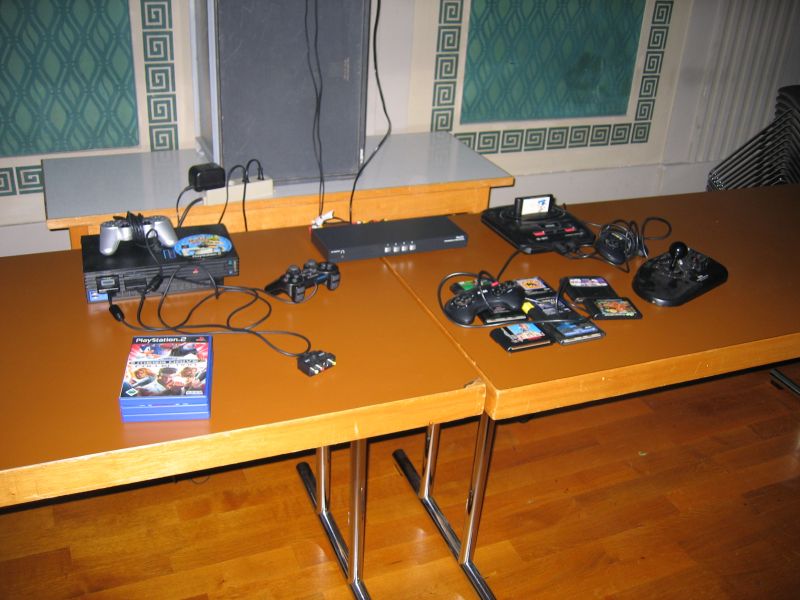 The Retrogamingcorner... A mega drive and a PS2 (Retro??) with a Sega Megadrive collection... Nice to play some cool old Mega Drive games.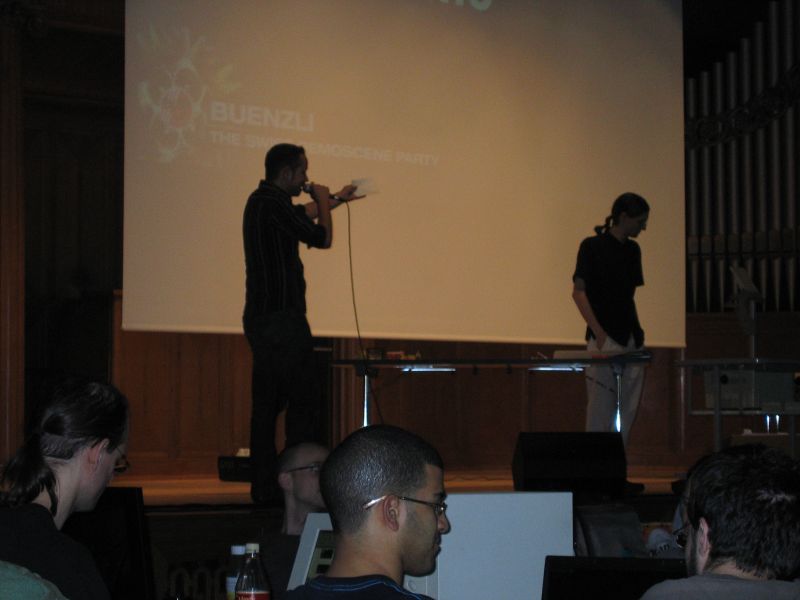 Unlock and T$. Unlock is announcing the OHP demo (OverHeadProjector).
During the last 2 Buenzli parties, T$ cutted off the head of the poor duck... But this year, the duck broke the scissors and survived !!! (Duck wins!!!)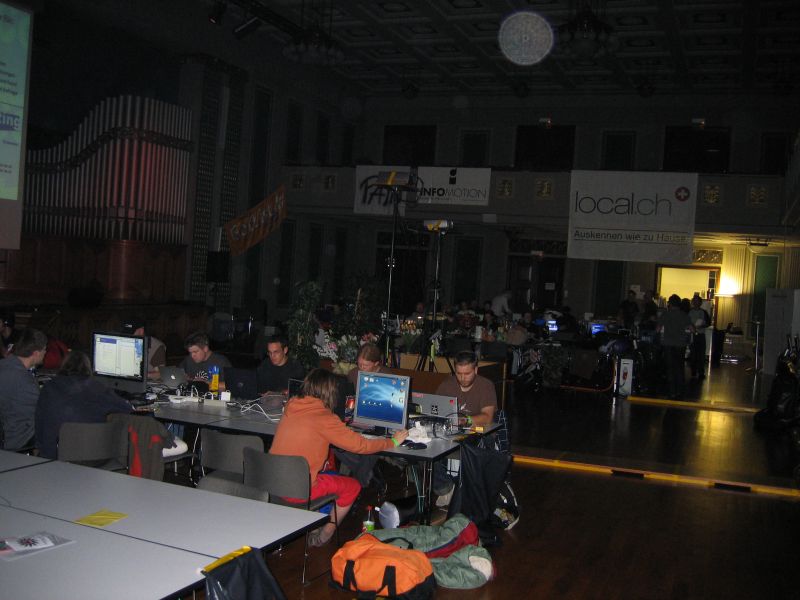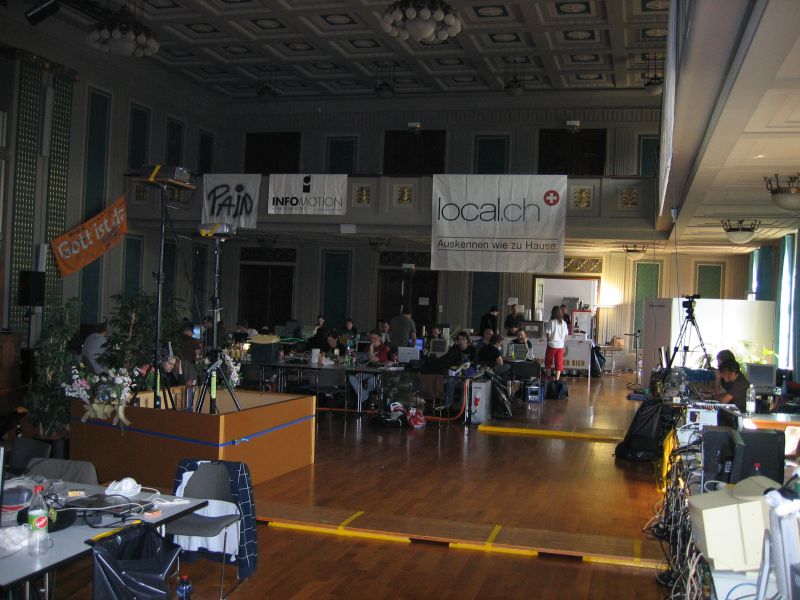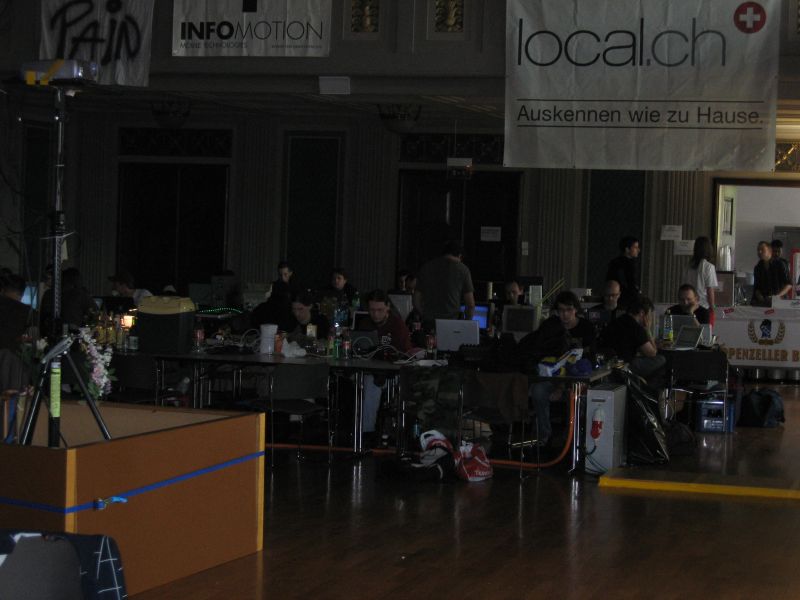 Some other pictures and impressions from the partyplace...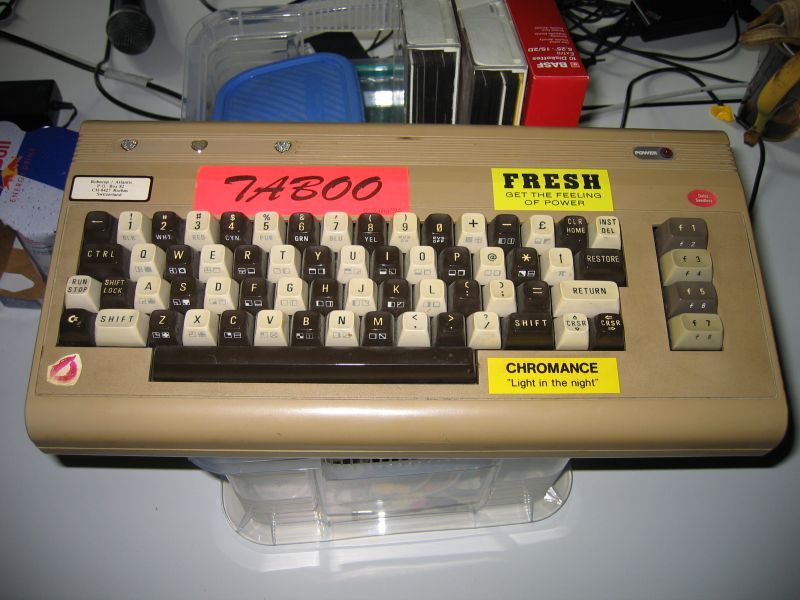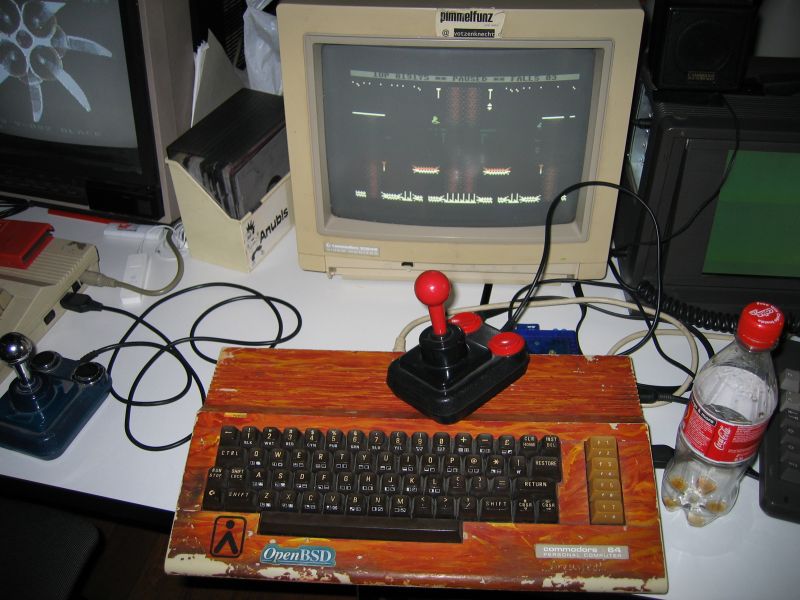 Some nice Commodore 64 units...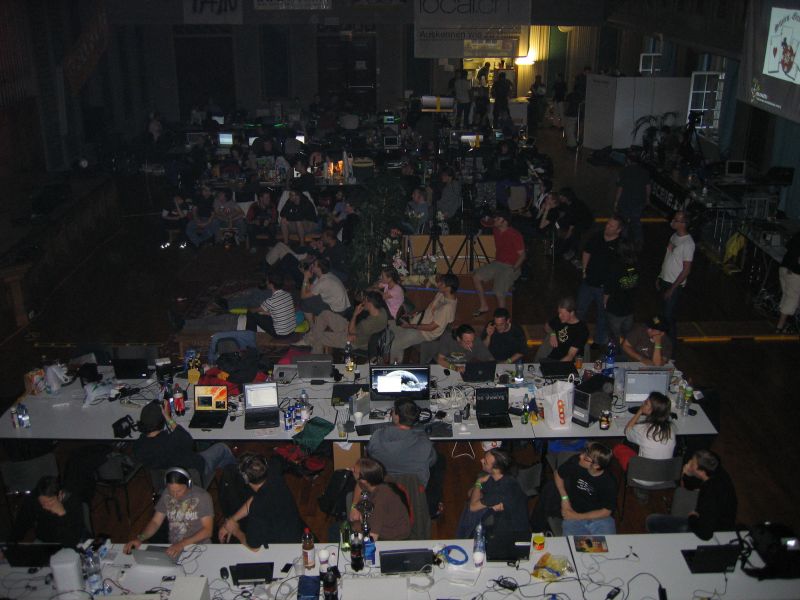 Another picture of the party place...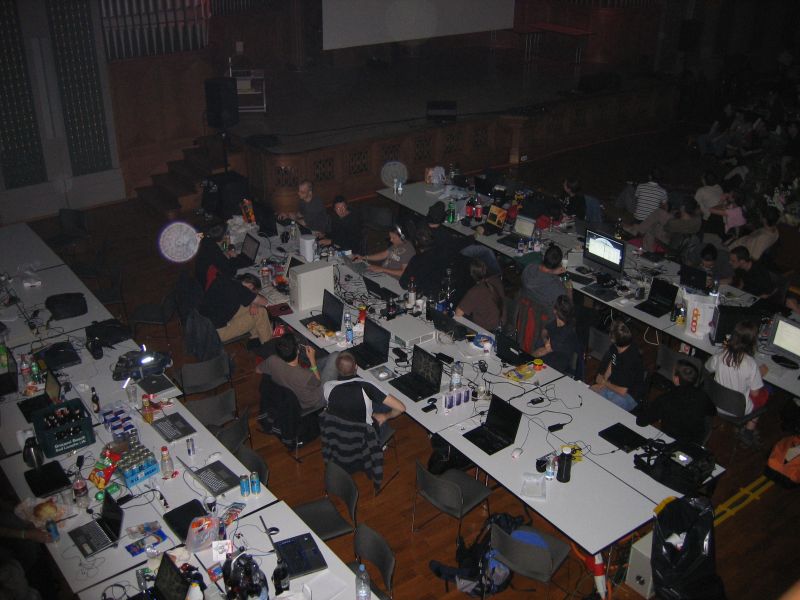 Another picture of the party place...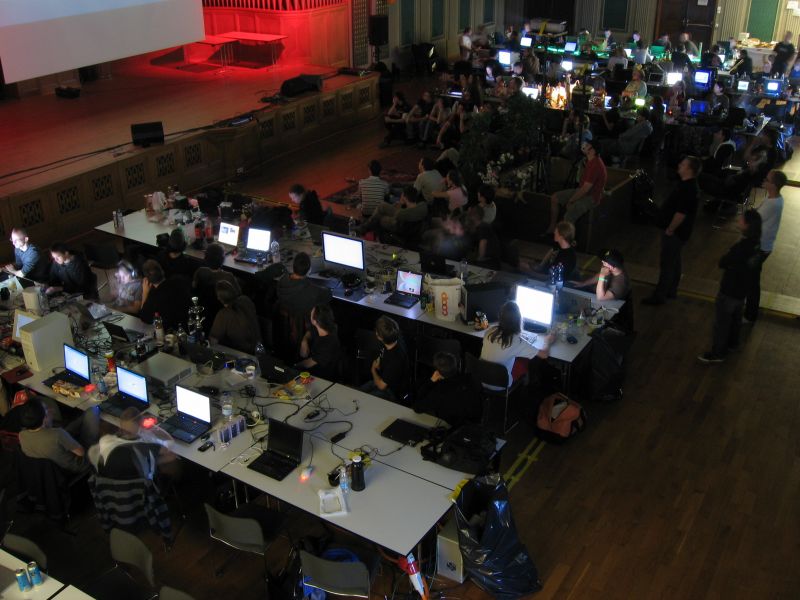 And the next one...
------------------------------------------------------------------------------------------
I coded a small demo on a very special demo platform for the Alternative Demo Compo. It is a Sharp Organizer IQ-8300M with a Basic extension card. The Organizer has 128KB, the Basic Card has 32K. (It is also possible to access the Organizer memory from the Basic Card to save files.) The Basic language has some very good commands, but for sound programing exists only a weak beep-command. If you want more information about this device, you can contact me. I you have precise information about this device like an exact memory map or good Pokes and Calls, please contact me. You find now some pictures from the Organizer and 2 Youtube videos of the demo. One with the demo recorded at home, and another one recorded live at the Party. Thanks to all sceners that voted for me :-)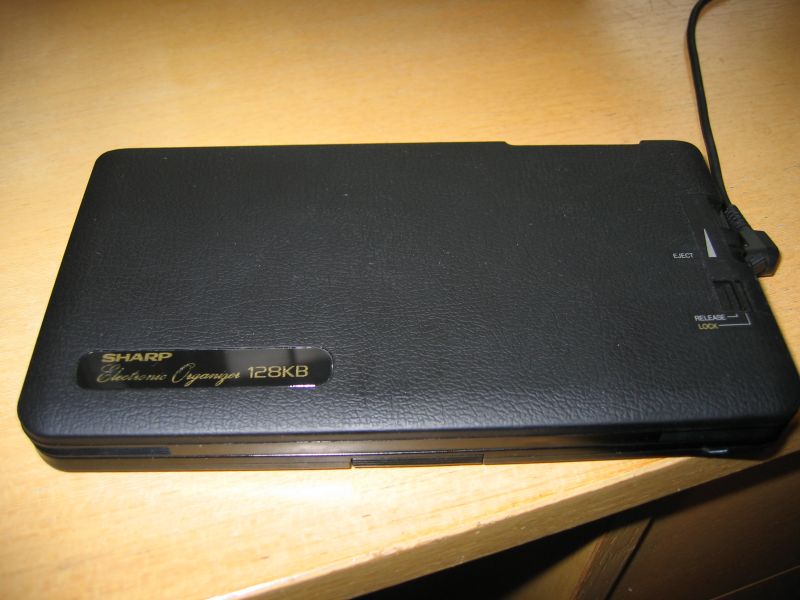 ******* Video of the demo recorded at home in good quality *************** Video recorded live at the party place ***********
Important Links:
All Buenzli 17 demos on pouet.net (year 2008)
Follow this Link to watch all Democompos of the Buenzli 17 on Demoscene.TV (embeded in the Browser, you need no video player)
Greetings to: Vectrex, Robocop, Unlock, CCP, Chefkoch, T$, Metalvotze, Nula and all others.
And now choose:
Back to Main Menu of www.chainsaw72.ch.vu or feel free to post your oppinion about the Buenzli, about the fotos, about this page, or anything else...